Health Insurance in Portugal: How It Works
Yohan Leuthold
Health Insurance in Portugal: How It Works
Beyond the tax benefits for pensioners, Portugal is attracting more and more European workers who are coming to work, develop a business and enjoy an excellent quality of life and some of the best sun in Europe. Some 500,000 French workers have chosen this new life as counted at the beginning of 2018, which is 5 times more than recorded in 2014! Yet the tempting adventure of expatriation also comes with certain administrative hassles and the issue of medical coverage should always get careful attention. In fact, the Portuguese healthcare system may be disconcerting to the English, who are used to a bit of freedom of choice when it comes to doctors and possible reimbursement even when using the private system. How does the Portuguese healthcare system work?
Are there any links between the private and public healthcare systems like in England?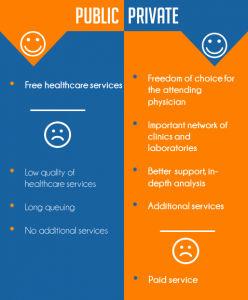 Partial Cover
This is the basic formula which allows access to an insurance company-approved network of doctors with a small payment per service (deductible) for:
general medicine or specialist consultations,
hospital care,
healthcare when traveling abroad.
Full Cover
With this formula, patients have access to the company's medical network without any deductibles: consultations are 100% covered by the company and the insured also benefits from travel insurance when abroad.
Complete Cover
This is the most expensive type of policy but also the one that guarantees the best cover for your and your family's health in Portugal! And depending on your needs, complete cover is an investment that can be quickly returned. In fact, besides giving you access to a large network of practitioners approved by the insurance company in general and specialist medicine, this health insurance particularly ensures 100% payment of all visits and offers hospital care as well as travel assistance when abroad.
And if a physician outside the company's network must be consulted either in Portugal or abroad, 80% of the advance fees will be covered by the company.
If you're not very comfortable speaking Portuguese or are hesitant to express yourself in another language when discussing a healthcare issue, the COMPLETE policy is just for you: it allows access to English-speaking generalists and specialists. The COMPLETE policy also covers alternative medicine consultations: acupuncture, homeopathy, osteopathy are some of the rather costly practices covered by this policy.
Ask for your free quote for health insurance -> CLICK HERE
INOV Expat – About Us
INOV Expat is an insurance brokerage firm aimed at French and English-speaking expatriates in Spain, and now in Portugal, which has signed partnership agreements with the leading insurance companies on the market. We know just how much moving to another country can bring about a lot of surprises and procedures which are sometimes quite complex. So, ever since its foundation in 2004, INOV Expat has not only aimed to assist its expatriate clients search for "custom insurance" but also defend their rights in the event of a claim.
Ask for your free online quote: automobile, health, home, business, travel, or other insurance. Contact us by email at [email protected].

Imagen de rawpixel.com en Freepik