Search
Articles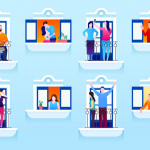 Community insurance in Portugal: Understand everything in 6 questions
A condominium is exposed every day to multiple risks that require urgent and necessary services to deal with them. It is therefore important to subscribe community insurance in Portugal, here called "seguro de condominio", for the peace of mind of all neighbours. If you want to know more, read our article!
What does the condominium insurance cover?
Condominium insurance is insurance that protects the common areas of a building. It is used to cover damage to the building and the civil liability of the condominium.
Is this insurance compulsory in Portugal?
It is compulsory to have fire insurance, both for the independent parts and for the common parts of the co-ownership.
Does the Community insurance cover my flat?
No, the "seguro de condominio" insurance does not cover damage to your flat. For this, you will need to take out a home insurance policy. Don't hesitate to request a home insurance quote by clicking here.
The condominium insurance will cover damage to the common areas. Your home insurance will cover damage to your own appartment.
Is water damage covered by this insurance?
Most Portuguese insurance companies include water damage caused by collective pipes in their basic cover.

What are the main coverages of this insurance?
The main guarantees are as follows:
Civil liability: for damage that may be caused to third parties (e.g. slippery stairs, fall of a part of the roof that causes damage to a third party, etc.).
Material damage : such as fire, explosion, lightning, atmospheric or seismic phenomena.
Water damage
Assistance for condominiums: most insurance companies include a 24-hour assistance service, 365 days a year

Unclogging of communal pipes

Glass breakage in common areas

Defence/legal assistance

Who should take out condominium insurance?
All co-owners must take out co-ownership insurance ("Condominio" insurance).
How much does the "seguro de condominio" cost?
The insurance premium varies depending on the optional cover included but it can vary between 50 and 100 euros per year and per accommodation.
You can request your community insurance quote by clicking here.
INOV Expat - Who are we?
INOV Expat is an insurance brokerage firm aimed at French and English-speaking expatriates in Portugal and Spain, which has signed partnership agreements with the leading insurance companies on the market. We are based at Lisboa, Barcelona and Madrid. We know just how much moving to another country can bring about a lot of surprises and procedures which are sometimes quite complex.
So, ever since its foundation in 2004, INOV Expat has not only aimed to assist its expatriate clients search for "custom insurance" but also defend their rights in the event of a claim.
Ask for your free online quote: automobile, health, home, business, travel, or other insurance. Contact us by email at [email protected] or by phone +351308809541 or WhatsApp (+351) 910 80 8.