Guide to Health Insurance in Portugal
Yohan Leuthold
Guide to Health Insurance in Portugal
Unlike in England where the two healthcare systems (public and private) co-exist with patient freedom of choice and guaranteed minimum cover by the social security system, the SNS (Servicio nacional de Saùde) in Portugal never reimburses private sector healthcare. In order for care to be covered by the Portuguese social security system, patients must always respect the treatment plans imposed by their primary care physician: private consultations are never covered, not even partially, by the Portuguese social security system.
How does the Portuguese public healthcare system work in?
1. Where can you get public medical care?
All Portuguese residents, even expatriates, are assigned a health centre (centro de saude) near their home. The equivalent of our EHIC (European Health Insurance Card) will be issued upon registration (passport + EHIC certificate+ proof of residency in Portugal) and a primary care physician will be assigned.
2. Can you choose your own doctor?
No, in Portugal (just like in Spain) patients in the public healthcare system do not choose their own primary care physician as one is assigned upon registration at their health centre. This doctor is the referring physician for your family and can provide access to consultations with specialists, always within the public sector.
3. What do I do if my primary care physician is not available?
If your primary care physician is not available, you must still go to your health centre. Only the reception personnel there may secure you an appointment with another doctor or on-call physician. Outside your health centre opening hours or in the event of an emergency, patients may go the closest permanent care service centre (Serviço de Atendimento Permanente, SAP) or hospital: the integrated medical emergency system may be contacted by calling 112 or the medical emergency number 808 242 424.
4. How can you get an appointment with a specialist?
The primary care physician designated upon registration at a health centre is the only person authorised to refer you to a specialist doctor: if the primary care physician believes the symptoms require an opinion from a specialist after an initial appointment, you will be referred to one designated by your primary care physician who will supply you with all the necessary documents.
Private healthcare insurance in Portugal… what is it for?
1. No more waiting
Accessing care more quickly than in the public sector is possible with private sector physicians who are not subject to any agreed rates (as is the case in England).
2. Choosing your own doctor
Investing in health insurance in Portugal means guaranteeing your choice of doctor, less waiting times for treatment and, above all, having direct access to specialists.
3. Other advantages
Depending on your needs and the option chosen, your health insurance may offer you access to convenience healthcare services (acupuncture, podiatrists), for example, or even dental care, orthodontists and eye doctors.
4. + … all in English
Not yet bilingual in Portuguese or just not comfortable speaking about healthcare issues in a language you're not fully proficient in… no worries… INOV Expat has selected a list of English-speaking doctors! Don't think twice about speaking to our advisors.
What are the differences between the public and private systems?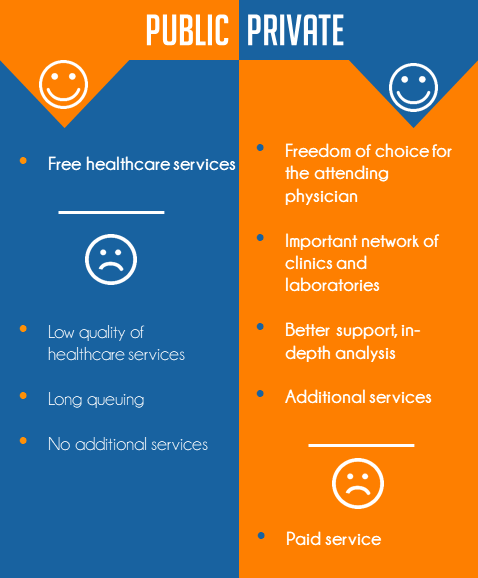 There are 3 types of health insurance policies offered by companies: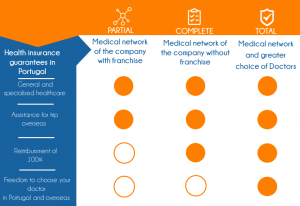 Comparing them in order to choose your health insurance in Portugal… that's INOV Expat's job.
Age, occupation, medical history and the number of people to be insured in your household as well as the expected cover level are all factors considered by insurance companies when calculating your health insurance premium in Portugal. In order to best adapt your health insurance in Portugal, it is important to speak to professionals who can offer personalised advice. And for even more peace of mind, in addition to free advice from our specialists, INOV Expat always commits to offering 3 quotes from different companies!
A healthcare tip from INOV EXPAT: the Health Card
Why get health insurance in Portugal?
As explained, although the public healthcare system in Portugal offers quality care, it requires being very patient and does not allow free choice of doctors. In order to avoid stressful waits and be able to see the doctor of your choice, choose a hospital or clinic and benefit from faster medical services (especially for emergencies), choose private health insurance. Besides your Portuguese social security card, you will receive a health card from the insurance company.
This health card offers a number of benefits.
No advance medical payments if you see a doctor in the company's medical network.
Private rooms when hospitalised are no longer a luxury with your card.
When traveling abroad, your health insurance card will allow access to repatriation and travel insurance services.
> ASK FOR YOUR FREE HEALTH INSURANCE QUOTE : CLICK HERE
Why can INOV Expat offer you good health insurance solutions?
INOV Expat is an insurance brokerage firm aimed at French and English-speaking expatriates in Spain, and now in Portugal, which has signed partnership agreements with the leading insurance companies on the market.
We know just how much moving to another country can bring about a lot of surprises and procedures which are sometimes quite complex. So, ever since its foundation in 2004, INOV Expat has not only aimed to assist its expatriate clients search for "custom insurance" but also defend their rights in the event of a claim.
Ask for your free online quote: automobile, health, home, business, travel, or other insurance or contact us by email [email protected]