How does Dental Insurance work in Portugal ?
Yohan Leuthold
How does Dental Insurance work in Portugal ?
Keep smiling with dental insurance!
Everyone knows nowadays that paying attention to oral hygiene is not a matter of how you look, but rather a way to maintain overall health. Yet, the truth is, even if you see it as a health issue, dental care can sometimes be quite costly.
That is why dental insurance may seem like THE solution for no longer putting off important dental work because of the cost.
In all reality, "traditional" health insurance covers basic dental care. But as soon as you need more complicated treatment for your teeth or your gums (crowns, bridges, implants, etc.) only supplementary dental insurance will bring you peace of mind: it actually covers more complex care and sometimes enables access to free dental services or preferential rates.
The treatments covered by supplementary dental insurance are generally as follows:
Dentist, periodontologist and orthodontist visits
Dental care (scaling, cavities, tooth extraction…)
Periodontal treatments
Orthodontics
Dental prostheses (implants, bridges, crowns…)
Summary table of free or highly reduced treatments with dental insurance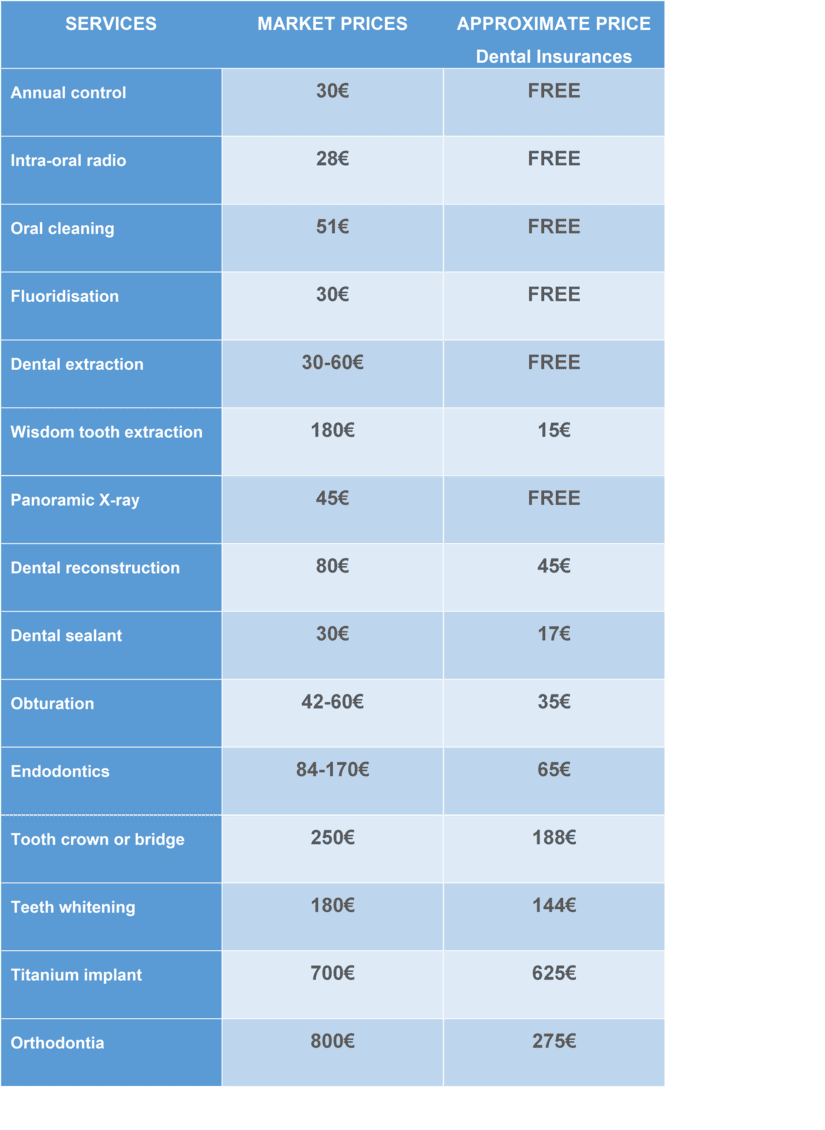 Dental insurance: how to use it
We recommend reading and comparing before signing any supplementary dental insurance policy!
In fact, it's important to understand the scope of the "free" services and those at "preferential" rates included in your policy to ensure they match your "patient profile".To benefit from the preferential or free rates, the insurance company will impose certain providers. So, if you wish to see a dentist near your home, it's important to ensure that provider is covered by the insurance company.
The cost of this type of dental insurance policy is around €7-15 per month per person with families receiving special rates.
Whether young or in the prime of life, your oral health is essential to ensuring good overall health. So, ask for more information now on the dental insurance offers INOV Expat can propose via its website pt.inovexpat.com or by email: [email protected].
How can INOV Expat help you keep smiling?
INOV Expat is an insurance brokerage firm aimed at French and English-speaking expatriates in Spain, and now in Portugal, which has signed partnership agreements with the leading insurance companies on the market. We know just how much moving to another country can bring about a lot of surprises and procedures which are sometimes quite complex.
So, ever since its foundation in 2004, INOV Expat has not only aimed to assist its expatriate clients search for "custom insurance" but also defend their rights in the event of a claim.
Ask for your free online quote: automobile, health, home, business, travel, or other insurance. Contact us by email at [email protected].