Personal Accident Insurance : Guide in Portugal
Yohan Leuthold
Personal Accident Insurance : Guide in Portugal
1- Why should I take a Personal Accident Insurance in Portugal ?
a) What is a Personal Accident Insurance ?
The personal accident insurance is a personal insurance method which covers risks as disability, death, processing costs of the insured and gives you access to a medical assistance intended to cover hospital fees in Portugal, in case of an accident.
b) Who is covered by my Personal Accident Insurance ?
Suscribe a Personal Accident's Insurance might be a real advantage for your tranquility, the one of your family and your financial security.
Besides ensuring economic security to the insured at a fair price, the Personal Accident's Insurance allows to cover the entire group of people that directly depends of the insured if this one comes to die.
c) How can I calculate my Personal Accident's bonus?
Considering that the risk of an accident is the same for everyone, the bonus will be identical whatever your age. So, the bonus is fix!
2- How work my Personal Accident Insurance?
a) In case of death of permanent disability
In case of death, the sum insured will be reversed to beneficiaries figuring on the contract. If there are no beneficiaries mentioned, the sum will be reversed to legal successors.
In case of permanent disability, will be reversed the % of the sum insured taking into account the devaluation table.
b) In case of temporary disability and hospital admission ?
The insurer pays the daily allowance set during the hospital stay or the clinic stay, for a time never above 360 days.
3- Processing costs
a) What are processing costs?
Processing costs are medical and hospital fees, including medecine costs and infirmary fees.
b) What should I do in case of a regular clinic treatment?
In case of a regular clinic treatment, are included delocalization fees of the insured to the doctor, the hospital, the clinic or the infirmary care station, as long as the mean of transport used is the adequate one.
c) How to get reimbursed for your processing costs?
The reimbursement of costs is done upon presentation of valid documentary.
d) Reimbursement of funeral expenses
Reimbursement until the quantity set in funeral expenses's particular conditions of the insured.
4- Medical assistance in Portugal and medical assistance Abroad.
a) Medical assistance in Portugal
Below are different points that supports the medical assistance in Portugal:
Hospital Admission
Ambulatory Assistance
Search and send of medecines
b) Medical assistance Abroad
Below are different points that supports the medical assistance Abroad:
Medical transportation of repatriation of the injured and/or sick
Accompaniment during medical transportation of repatriation
Accompaniment of the hospitalized insured
Round-trip ticket for an insured relative
Extension of the stay at the hostel
Medical, surgical, pharmaceutical and hospitalization fees abroad
Repatriation or transportation of the deceased person and companions
Luggage theft abroad
Cash advance
Trip cancellation
Delay for luggage reclaim
Flight delay
Loss of airline connection
Loss of flight for public transports reasons
Legal Assistance abroad
c) Theft, loss or deterioration of luggages during the travel
In this case, the insurance includes the payment of damages caused to the luggage for theft, loss or deterioration.
However, the insurance does not refund:
Cash, cheques, credit cards, all kind of documents, travel tickets
Jewellery, watches and other objects made of metals and precious stones
Art pieces and collections
Fur coat
Cellphones, laptops and their respective accessories
Photo camera and camera
Fragile goods
Prosthetics or Orthotics
d) What is my capital insured in case of theft, loss or deterioration ?
The capital is 1.250€ with a sub-limit of 250€ per loss or damages items.
The word of INOV : "I always advice my clients to subscribe a Personal Accident Insurance. It is not mandatory but can be very useful if you face the unexpected. It can facilitate the life of the insured as the one of his family in case of accident." – Benjamin Retali
Ask your free Personal Accident Insurance quote -> Click here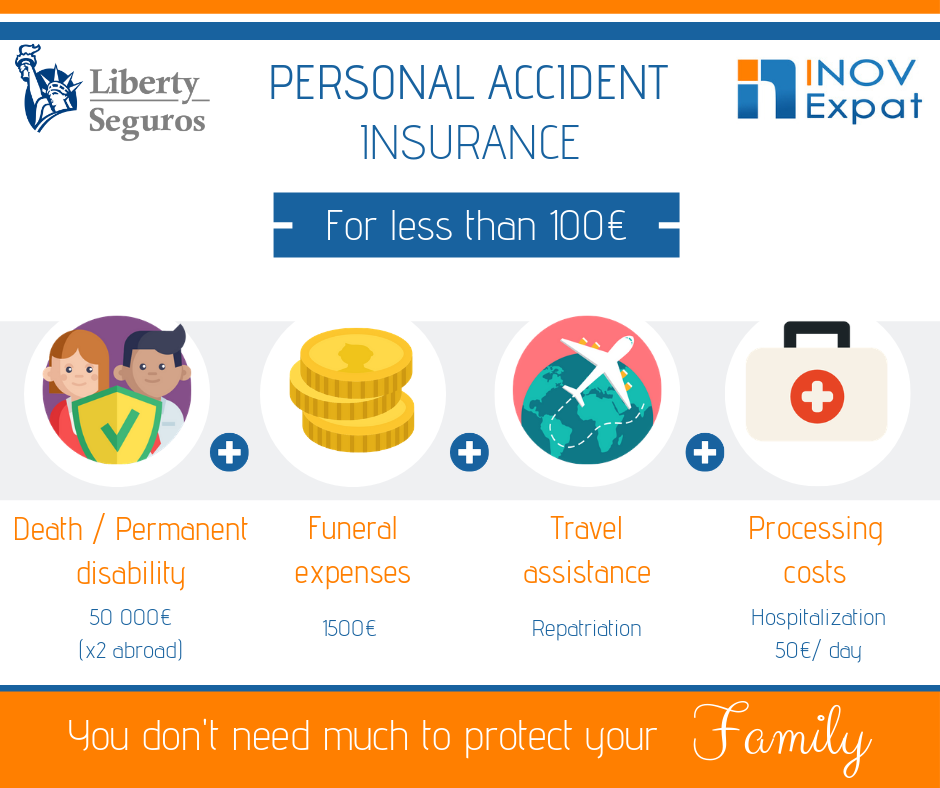 INOV EXPAT – who are we ?
INOV EXPAT is a brokerage firm for French expatriates in Spain, and now also in Portugal. We concluded partnerships with the best's insurers on the market, which allow us to offer you custom-made insurances at the best price. Partners of INOV Expat are, like you, expatriates, and know how settling in a new country, abroad, can be complex and sometimes surprising.
From its creation in 2004, INOV Expat has not only for objective to support his expatriates clients in their search for "custom-made" insurance but also to defend their rights in case of claim.
Ask you free quote online : car, health, home, business, travel, others. Look at our website https://pt.inovexpat.com/en/home/ or contact us by e-mail at [email protected]